Thailand travel advise & recommendations regarding Mourning Period for His Majesty King Bhumibol Adulyadej
Thailand Travel Advise 

"Property & You Thailand  would like to thank all visitors for their understanding and supporting Thailand during this period of time"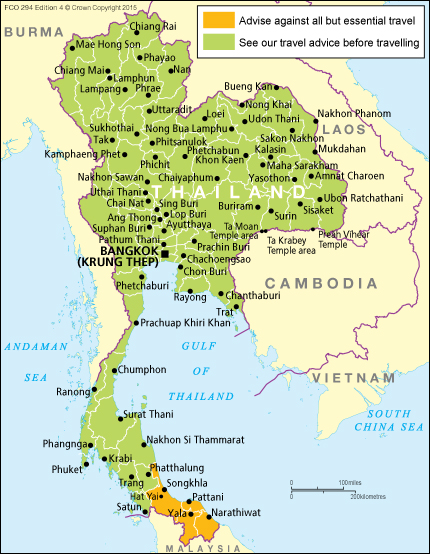 The Foreign and Commonwealth Office (FCO) advise against all but essential travel to the provinces of Pattani, Yala, Narathiwat and Songkhla on the Thai-Malaysia border. See Terrorism
Following the official announcement of the death of His Majesty King Bhumibol Adulyadej there is now an official period of mourning of one year from 14 October 2016. You should respect the feelings and sensitivities of the Thai people at this time. Particularly during the first 30 days of the mourning period, some entertainment venues, including restaurants, bars, and clubs may be closed or operating on restricted hours. You should wear dark-coloured sombre and respectful clothing when in public and behave respectfully when in public areas. Check local media regularly and follow the advice of the local authorities.
The Tourism Authority of Thailand has encouraged visitors to continue with their travel plans as normal, and has published more detailed recommendations about the mourning period.
The British Embassy, Bangkok is unable to provide advice on specific travel plans. If you have an enquiry about your flight status, contact your airline, travel company or the airport authorities, who will be able to give you the most up to date information. 
For information and advice about the risks associated with Zika virus, visit the National Travel Health Network and Centre website.
There were multiple explosions and incidents in tourist areas across Thailand on 11, 12 and 14 August 2016. There remains an increased security presence in some tourist areas. You should exercise caution, particularly in public places, and follow the advice of local authorities. Further incidents are possible in these and other areas of Thailand.
There is a high threat from terrorism. There have been recent incidents in a number of locations including Bangkok, where a bomb explosion on 17 August 2015 resulted in numerous casualties including the death of a British national. You should follow the advice of the local authorities, monitor local media reports and remain vigilant. See Terrorism
British nationals make over one million visits to Thailand every year. Most visits are trouble-free, but there have been attacks (sometimes violent), particularly on the islands of Samui archipelago. Two British nationals were killed in September 2014 on the island of Koh Tao in the Gulf of Thailand. See Crime
The Tourist Authority of Thailand's website and call centre (1672 – press '9' for English) are able to provide some general advice to tourists in English.
Most road traffic accidents in Thailand involve motorcycles, but accidents involving other vehicles including cars, coaches and mini-buses also occur. See Road travel
There are numerous passenger boat services operating between the mainland and islands in Thailand. There have been some sinkings and collisions which have resulted in fatalities, including 2 British nationals. These incidents are usually due to overloading and/or poor maintenance but also due to rough seas, particularly during local monsoon season. See Sea travel
Penalties for possession, distribution or manufacture of drugs are severe and can include the death penalty. See Local laws and customs
Take out comprehensive travel and medical insurance before you travel.
The Overseas Business Risk service offers information and advice for British companies operating overseas on how to manage political, economic, and business security-related risks.
MEDIA RELEASES
Recommendations regarding Mourning Period for His Majesty King Bhumibol Adulyadej
Thailand is now in an official period of mourning following the passing of His Majesty King Bhumibol Adulyadej.
In this regard, the Tourism Authority of Thailand (TAT) would like all visitors to Thailand to continue with their travel plans as normal. Furthermore, kindly be advised of the following:
Many Thai people will be wearing black or white clothing as a sign of mourning. This is not required of visitors but if possible, they should wear sombre and respectful clothing when in public.

Visitors should refrain from conducting any inappropriate or disrespectful behaviour.

Tourist attractions will be open as usual with the exception of Wat Phra Kaeo (Temple of the Emerald Buddha) and the Grand Palace, as they will be the venue of the Royal Funeral Rites.

The Government has asked for the cooperation from the entertainment venues; such as, bars and nightclubs to consider the opening of their business operations during this time. The decision will be made by the individual owners.

Most of the traditional and cultural events will be taking place as usual, although the celebrations may be changed for appropriateness as a mark of respect, or the events may be dedicated to the memory of His Majesty King Bhumibol Adulyadej.

All transport, banks, hospitals and other public services will be operating as usual.

The related authorities have stepped up safety and security measures for all Thais and visitors to facilitate their travelling around the country.

For any enquiries, please contact our TAT domestic offices or Tel.: 1672.
"Property & You Thailand  would like to thank all visitors for their understanding and supporting Thailand during this period of time"
Tourism Authority of Thailand
14 October 2016 at 16.00 hrs.
All entertainment in Thailand suspended for 30 days. Thailand shuts down It has been announced there will be a public display of respect and mourning in Thailand for thirty-days.
There will be no entertainment programs on radio or television.

No music, no comedy and no soap series.

Every Thai channel will broadcast royal daily news continuously.

All entertainment events have been cancelled for thirty-days.

There will be no concerts, live music, stage shows or competitions.

Many nightclubs and go go bars have already closed down and will remain closed as a mark of respect.

Some bars have been told to close for three-days, others have been shut down for seven days.

More information will be shared as it becomes available